Nathan Adelson Hospice philosophy of care has always been that it is not just the patient that needs compassionate care but every member of the family.
Now through the Pet Peace of Mind Program, Nathan Adelson Hospice is able to expand this philosophy of care to even the non-human members of the family. We know that the unconditional love pets provide to their owners is priceless medicine for both patients and families living with a terminal illness.
The Pet Peace of Mind Program provides volunteer pet care services for patients who, because of their illness, may need some assistance in providing care for their pets. Our specially trained volunteers are experienced in animal handling, animal health care and have the basic knowledge of the dynamics of pet ownership including the emotional bond between a patient and their pet.
Pet Peace of Mind is designed to help provide whatever services are necessary to keep patient and pet together throughout the end of life journey. This allows the patient to continue to have a sense of control over their current situation by empowering patients to make decisions for their pet. In addition, it strengthens the bond between the patient and their pet.
How can Pet Peace of Mind assist with pets of hospice patients?
Transportation to and from veterinarian and grooming appointments
Assistance with feeding/pet food
Dog walking/playtime
Maintaining a clean environment for the patient
Veterinary referrals
Transportation to health care facilities to visit owners
Temporary foster care and assistance in finding a "forever" home for the pet when the owner dies.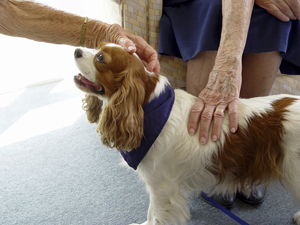 It's the little things that may get neglected when a family is coping with a terminal illness. Pet Peace of Mind ensures that the family's furry member isn't one of them! Whether they are furry, feathered or finned, our patient's pets will get the same kind of loving care they have grown to appreciate.
If you are a hospice patient or caregiver and need extra help caring for the animal members of your household, please let your case manager, social workers, volunteer coordinators or any of our staff members know. We will be happy to take it from here.
We need your continued support!
You can continue to show your support by contributing in one of many ways. You can contribute to our Pet Peace of Mind fund below to help some of the many animals who depend on us for food, shelter and medical needs every day. You can also contribute by donating items from our Wish List. Please help in any way you can!
Wish List
Your donations are appreciated. Help us help them!
Funds (See donations page)
Grooming aids
Crates/fencing
Leashes and collars
Storage space
Cat/dog toys
Kitty litter
Kitty litter boxes
Plastic bags
Plastic gloves
Paper towels
Dog/cat beds
Wee Wee pads
Blankets
Cat trees
Animal Wish List
Financial assistance for:
Vaccinations
Spaying and Neutering
Medical Emergencies
Volunteering
We are actively recruiting volunteers. It is our hope that the volunteers who apply have a genuine desire to care for the animals we serve with love, respect and patience and have a basic knowledge in animal handling. Nathan Adelson Hospice requires that all volunteers go through orientation to include an overview of hospice, the Pet Peace of Mind Program and basic training to include animal handling techniques, animal first aid and CPR.
This program enables patients to keep their pets at home with them throughout their end of life journey. The following services will be available to patients and their pets:
Transportation to veterinary and grooming appointments
Assistance with feeding / pet food
Dog walking / Play time
Maintaining a clean environment for the pet
Transportation to healthcare facilities to visit owners
Temporary foster care
Assistance in identifying a "forever home" if family is unable to keep the pet after the patient's death
If you are interested in providing assistance to one of our patient's pets, please call or email Jennifer Mauceri at 702-796-3185 or This email address is being protected from spambots. You need JavaScript enabled to view it.