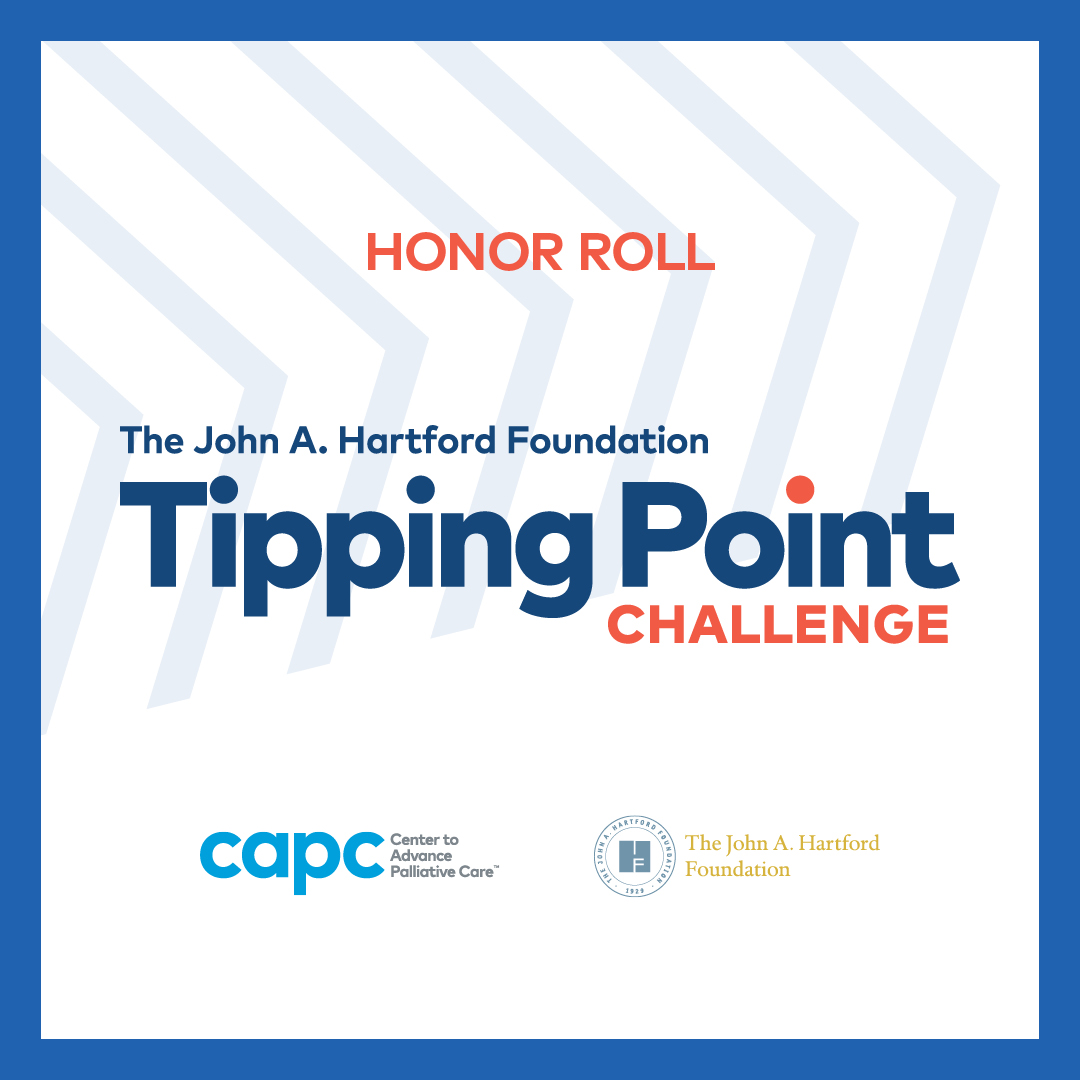 LAS VEGAS, NEVADA – Nathan Adelson Hospice made the honor roll in The John A. Hartford Foundation Tipping Point Challenge, a national competition established to catalyze the spread skills, ideas, and solutions that will improve health care delivery and the lives of all people living with a serious illness. The Challenge is sponsored by the Center to Advance Palliative Care (CAPC) and The John A. Hartford Foundation. While not the winner, we were a close front-runner, and are very proud of our accomplishments.
The goal of the Challenge was to help health care organizations like ours expand on the ability to effectively care for seriously ill patients, strengthen our mission, improve the bottom line, and make a significant positive impact on the community we serve. Over the past year, through our CAPC membership, both palliative care and non-palliative care specialists across the organization have taken courses through a robust online learning curriculum. This includes enhancing skills in communication, pain management, symptom management, and much more.

"We are truly grateful to receive this honor from The John A. Hartford Foundation,"said Karen Rubel, President and CEO of Nathan Adelson Hospice. "Our palliative care team will receive a certificate of achievement and be highlighted at the 2020 CAPC National Seminar. We pride ourselves on our quality of care as well as the compassionate and dedicated team that works for us."
"We congratulate the winners of the Tipping Point Challenge for their commitment to continuous learning and skill-building so that all patients with serious illness receive the highest quality care that focuses on what matters most to them," said Terry Fulmer, PhD, RN, FAAN, president of The John A. Hartford Foundation.

Nathan Adelson Hospice is the oldest, largest and only non-profit hospice in Southern Nevada. Founded in 1978, Nathan Adelson Hospice provides comprehensive end-of-life care to more than 400 patients and families every day. Recognized as a national model for superior care, the vision of Nathan Adelson Hospice is that no one should end the journey of life alone, afraid or in pain. To learn more, please visit their website at www.nah.org.

The Center to Advance Palliative Care (CAPC) is a national, nonprofit organization dedicated to increasing the availability of quality health care for people living with a serious illness. As the nation's leading resource in its field, CAPC provides health care professionals and organizations with the training, tools, technical assistance, and metrics necessary to redesign care systems that effectively meet this need.