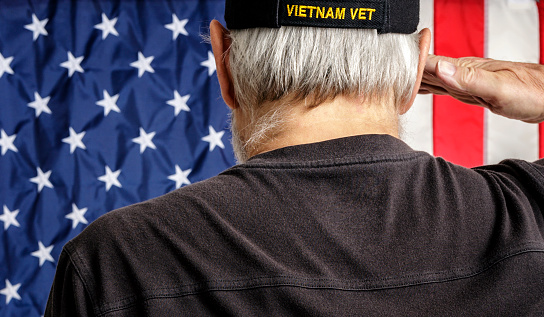 "It is the secret of the world that all things subsist and do not die, but retire a little from sight and afterwards return again." —Ralph Waldo Emerson

This couldn't be more true for Paul, who proudly served his country during the Vietnam War earning himself a Purple Heart and two Bronze Stars for his heroic achievements in a combat zone. Throughout his entire life, he had a unique ability to be a positive force to those around him and everyone who knew him loved him. Through donating his corneas, his legacy carries on in others with the healing gift of sight, even after his passing.

Not having a family of his own, the Army veteran dedicated his life to his friends and helping his fellow veterans in need with his involvement in the Veteran's Club of Sun City Aliante. Paul suffered a series of strokes, the most serious in 2014, leaving him disabled and wheelchair-bound. Paul continued living at home with his cat, Tank, who never left his side.

Thankfully, Paul was never alone, because he had his lifelong friends, Janet and Terry, here in Las Vegas to help with his needs. "We have been friends for 50 years and the last six years, after his serious stroke, were a gift. It was our honor helping Paul with his finances, shopping, computer needs, appointments and Dr. visits," says Janet. "Our children and grandchildren called him "Uncle", and after his final stroke, he even began calling us Mom and Dad. No matter how sick, or how bad he felt, he stayed a tender, caring man until the very end. He accepted his lot in life and continued being a loving giving soul. He flirted with his nurses until the day he died."

Eventually, Paul was given a diagnosis of metastatic pancreatic cancer from his doctor, and he was admitted into the Nathan Adelson Tenaya inpatient unit. Initially, Paul was talkative and in good spirits, especially since he was allowed visitors. After several days, he decided he wanted to return home to live out the remainder of his life. However, within a day he became unresponsive and passed away shortly afterwards. Nathan Adelson Hospice staff knew Janet and Terry were Paul's personal representatives and asked them about organ donation. In shock and heartbroken by his sudden death, Janet said, "We never had a chance to go over Paul's final wishes, but knowing Paul and who he was, we knew he would have wanted to help. We thought donating his corneas is what he would have wanted."

Unfortunately, like so many family members, Paul passed during the COVID-19 pandemic, and his friends and family living outside of Las Vegas were unable to attend his full military burial and funeral. However, when the pandemic is over, his friends from all over the country are planning a celebration of life event to honor Paul's memory.

Paul's last gift and act of charity was for people he will never meet or know. Cornea donation is necessary for the preservation and restoration of sight and one cornea donor can restore sight to two people. Since 1961, more than 1,800,000 men, women and children worldwide have had their sight restored through corneal transplantation.

Paul's story highlights the importance of Nathan Adelson Hospice's newly-enhanced partnership with the Nevada Donor Network (NDN). Many of our families ask, "What can I do to help?" This is a great way provide support to members of our community and for their loves ones' legacy to live on. Our partnership with NDN gives NAH access to NDN's records, and provides NAH with the opportunity to refer a needed donor match. In this time of sadness, his loved ones find solace knowing his life means others will be saved.