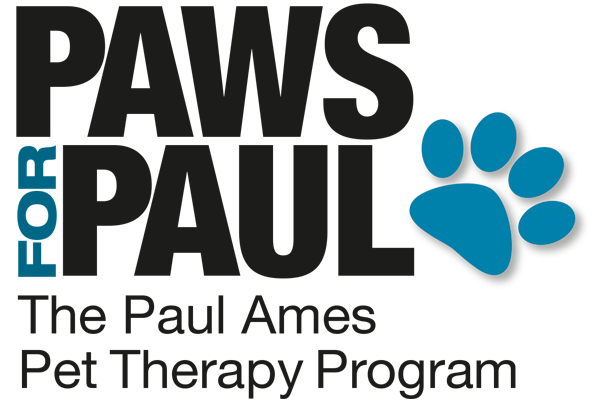 To celebrate the life of a special pet lover, Nathan Adelson Hospice is proud to announce the formation of
Paws For Paul –The Paul Ames Pet Therapy Program
.
To celebrate the life of a special pet lover, Nathan Adelson Hospice is proud to announce the formation of Paws For Paul – The Paul Ames Pet Therapy Program.
Paul Ames, brother of actor and comedian Brad Garrett, was a passionate advocate for animals, especially the dogs he cared for during his life. To honor his memory, Garrett and Nathan Adelson Hospice are creating a program that enhances the services we provide to those in our care and their furry friends.
Nathan Adelson Hospice has always recognized the soothing power pets provide to those in the final stages of their journey of life. Our pet therapy program offers comfort to our patients through:
• Bedside pet therapy visits in both inpatient units as well as nursing homes
• Dog walking for in-home patients
• Cat litter box changes for a healthy environment for in-home patients
• Pet waste cleanup in patients' homes and yards
• Bathing and grooming in the home
• Annual pet supply drive for shelters, where many of our pet therapy dogs come from
as well as hosting the monthly Rainbow Bridge pet loss support group. We also assist (when possible) in fostering or finding forever homes for pets when a patient has no other arrangements for the pet after their passing.
Funds generated from the Paws For Paul program will allow Nathan Adelson Hospice to increase the depth of those services currently provided, as well as being able to purchase items and services for patients such as:
• Food for in-home patients' cats or dogs as needed
• Cat litter, litter supplies for in-home patients' cats as needed
• Vet care for small needs (nail trims, medications, vaccinations, etc.)
• Spaying and neutering if needed (state law requires it)
• ID tags and micro-chipping patients' pets as needed
• Humane euthanasia (emergencies only)
As the program grows, we will look to increase our services, and may one day be able to fulfill an often-discussed goal of providing hospice care for pets – one more facet of our vision that no one – even those with four legs – should end the journey of life alone, afraid or in pain.
We need your continued support!
You can continue to show your support by contributing in one of many ways. You can contribute to the Paws For Paul - The Paul Ames Pet Therapy Program financially to help some of the many animals who depend on us for food, shelter and medical needs every day. You can also contribute by volunteering.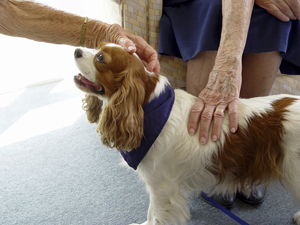 Volunteering
We are actively recruiting volunteers. It is our hope that the volunteers who apply have a genuine desire to care for the animals we serve with love, respect and patience and have a basic knowledge in animal handling. Nathan Adelson Hospice requires that all volunteers go through orientation to include an overview of hospice, the Pet Peace of Mind Program and basic training to include animal handling techniques, animal first aid and CPR.
This program enables patients to keep their pets at home with them throughout their end of life journey. The following services will be available to patients and their pets:
Transportation to veterinary and grooming appointments
Assistance with feeding / pet food
Dog walking / Play time
Maintaining a clean environment for the pet
Transportation to healthcare facilities to visit owners
Temporary foster care
Assistance in identifying a "forever home" if family is unable to keep the pet after the patient's death
If you are interested in providing assistance to one of our patient's pets, please call or email Jennifer Mauceri at 702-796-3185 or This email address is being protected from spambots. You need JavaScript enabled to view it.