Hospice Pet Therapy Dogs: Lending a Paw to Those in Need
Nathan Adelson Hospice is fortunate to have many long-time volunteers, some furrier than others. Paws for Paul – The Paul Ames Pet Therapy Program provides therapy dogs to visit patients and their families, offering comfort and companionship when it is needed most. To support the dogs in our pet therapy program, many of whom come from local animal shelters, Nathan Adelson Hospice is holding its 8th Annual Dog Bed & Blanket Drive. This year, Ovation Property Management is partnering with us on the pet drive, offering additional drop off locations at their apartment complexes throughout Las Vegas and Henderson. Bedding, blankets, food and toys can be dropped off at any of the 4 NAH locations plus 28 Ovation locations. Or you can donate to Paws For Paul here!
Becky Gang and her long-haired German Shepherd, Panzer, are two of our regular volunteers. While Becky adopted Panzer from one of her friends, many of her other pets and the therapy dogs she has trained have come from shelters. Panzer is the ninth therapy dog Becky has brought to Nathan Adelson Hospice in her 18 years volunteering with the pet therapy program. That's well over a century in dog years!
Becky moved to Las Vegas from Phoenix and started working with a dog trainer who knew the team at Nathan Adelson Hospice. She realized she had the opportunity to utilize pet therapy in a unique way and began to train dogs specifically for use with hospice patients and their families. "I'm retired now, so I'm fortunate to have the time to do this," Becky says.
Nathan Adelson Hospice is fortunate too since Becky has such a longstanding relationship with our hospice and thus knows how to train dogs to join the program. She chose Panzer for his temperament and calm personality in the presence of patients and their families.
Training Therapy Dogs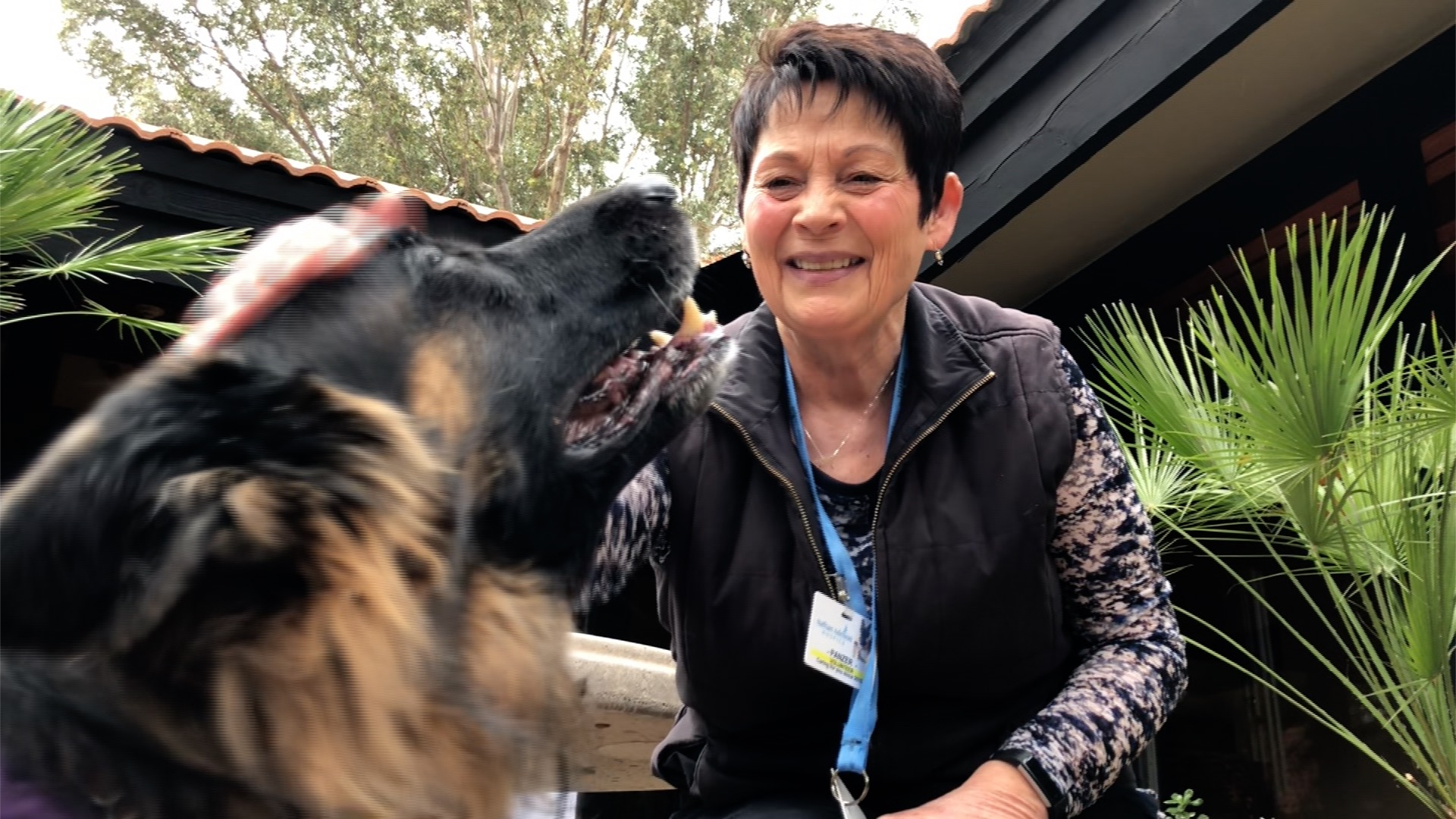 Therapy dogs must be a year old before they begin their training. Formal training includes basic obedience school lessons, such as walking slowly alongside the owner or trainer without pulling at a leash. Because these pets will be working at inpatient units and nursing homes, they must remain calm walking the halls of the units. They must also stay calm when encountering other therapy dogs who are visiting patients. During training, they learn how to follow commands to sit, stay and heel. They learn how to interact with other therapy dogs and stay calm and gentle around patients. When Becky feels dogs are ready and have completed their training, local and national agencies test and then certify them as trained therapy dogs.
Panzer is cross-trained as a service dog and a therapy dog. Becky notes that not all dogs are destined to be therapy dogs. Occasionally during the training and evaluation processes, Becky will tell an owner their dogs would be better candidates for service dog training instead. Some dogs' temperaments are better suited for another demographic, such as children. The dogs have to be comfortable with their situations. It is part of the job of the trainer to find the right fit for the dogs.
An Old Soul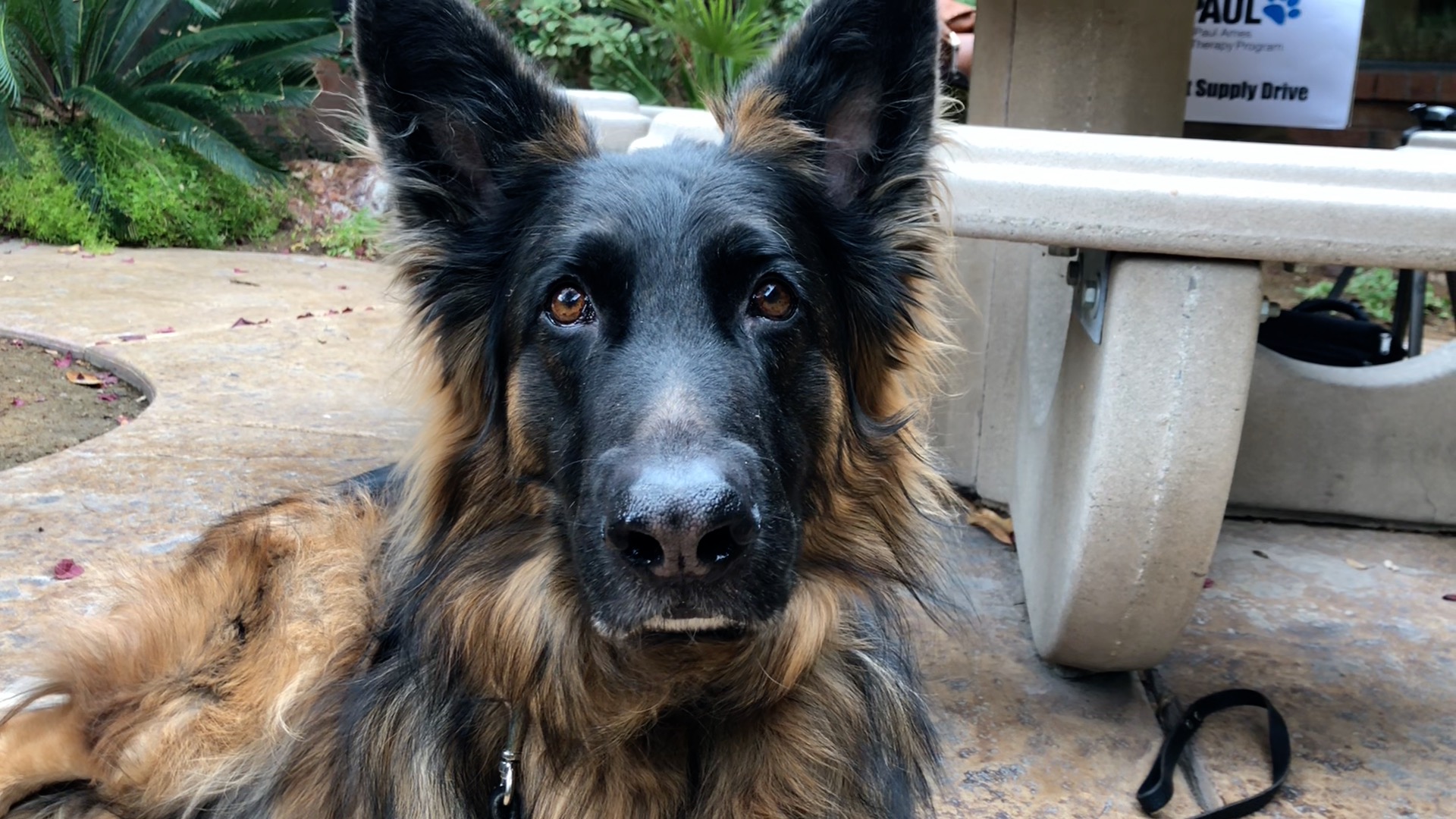 Though Panzer is still young, Becky could tell he seemed like an old soul and was well-suited to provide comfort and companionship to hospice patients. When Panzer was visiting the Tenaya Inpatient Unit on his way to a specific room, he encountered a patient's family member in the hallway. She was so relieved to see the sweet dog and sat on the floor, crying and hugging him. Becky said Panzer was surprised, and looked up at her as if to ask, "Mom, what's going on?" He may not have understood what exactly was happening, but he could certainly tell this patient's family member was in need of a hug, and he was happy to be there for her.
When Panzer was leaving the Swenson facility one day, he insisted on stopping at the door of a patient. Becky asked the family if it would be okay if Panzer visited the patient and they gladly approved. Panzer went right up to the person's bed and stayed nearby on the floor, providing quiet, calming support. It appears Panzer also has an awareness of when a patient is nearing the very end of his or her journey of life, as that patient was in the stages of actively dying.
When Panzer puts on his work vest, he knows he's on the job and his temperament suits the task at hand – providing that gentle comfort to patients in need of a furry friend. He's more playful and energetic at home. Becky says, "When he gets home from visiting hospice patients, it's almost like he's bragging to the other pets that he got to go out and provide help that day."
We're grateful to our volunteers and our trainer, Becky, who devote time and energy to preparing dogs for becoming therapy dogs and spend time with them visiting appreciative patients. Please consider donating to the pet drive to assist shelter dogs in our community, some of whom will become Nathan Adelson Hospice therapy dogs. It turns out, man's best friend will be there until the end.
Want more information on how to help? Sign up for our newsletter!